I've come across a lot of money-saving apps through years of living a thrifty life. None of them seems to compare to the Upside app after I've used it just over six months.
A lot of personal finance folks like to talk about not being penny-wise but pound-foolish. In other words, don't worry so much about the small amount expenditures – focus more about the bigger amounts. While it is good advice that means well, I say, why not do both?
I'm a big proponent of looking for ways to spend less money, be it large or small amounts. When I'm shopping online, I will go out of my way to look for any coupon code I can get. I often use a high-reward credit card that pays me back 5% on purchases made at our grocery store. And, I'll also look for ways to save on our recurring, bigger expenses like auto and home insurance.
So, I love to save.
Many of these cashback apps promise big savings but under-deliver. I admit that I was a bit skeptical about first using the Upside app. I didn't think I would save a lot.
My experience so far with Upside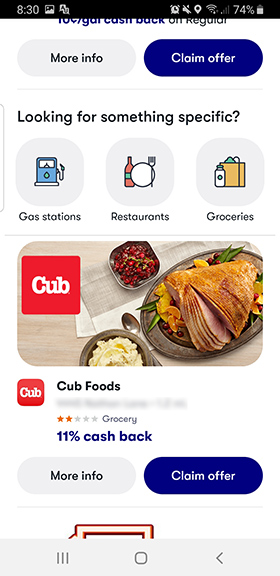 I started using the app in late May of 2021. I heard a lot about it – most specifically on the radio. It seemed a Upside app commercial was playing every time I got into the car! So, I thought I would give it a try.
Early on, they were offering a nice reward to sign-up. And they still do. For most new users, they can get an extra 20 cents off per gallon of gas. That's pretty good right now with rising gas prices.
Upside started in 2016 and offers discounts on three everyday purchases many of us make:
And, if you combine Upside with a credit card (or debit card) that offers extra cashback, you can really score big. Since using the app in May of last year, I have earned over $105. That's not bad for purchases I was planning to make anyways.
Plus, I have gone to a few new places I might not have frequented. I think that is one of the missions behind the app. To get people to spend at places they might not have.
I recall at one restaurant last year, the savings was 30% cashback! That's unreal. While the savings can fluctuate, many stay over 10% savings.
How does Upside work?
It's really easy to use the app. Depending on the retailer, customers just need to select the credit card they are planning to use (preloaded on the app) OR scan in a receipt of the purchase. In a day or two, you'll see the cashback added to your account.
You can cash-out at any amount to your bank account, Paypal or at different retailers (like Amazon) through a gift card. I've cashed my money out via Paypal and have thought about using the funds to buy stocks (talk about doubling, maybe tripling the money!).
An added bonus of referring new people through your personal code is that you can earn money back from their purchases of gas! And another bonus is the service sometimes does special offers for money. One time, they asked users to make a gas, grocery and restaurant purchase within a 10-day window and they'd pay users $25. Now, that's motivating.
Since the grocery store we frequent isn't yet offered through Upside, I know I could earn a lot more from using the app. I have one friend I've referred to Upside who within a month had earned over $100 because he was using it at his grocery store.
What's your experience been with Upside?
I'm interested to know what you think of the app? Like I mentioned, I've been using it just over six months – but I have enjoyed seeing the cashback added to my account and the extra savings that I could only get by using the app. How have you liked it?
We may earn a commission via some of the links on this page – at no cost to you! Thanks for helping to support our site.